720 P Ip inalámbrico por cable cámara CCTV Yoosee Software Webcam
Descripción de la cámara IP de ranura de la tarjeta micro SD:
Esta Cámara ip es operación y wifi cámara ip inalámbrica, fácil de conectar. La cámara ip tiene una ranura para tarjeta tf, con la tarjeta del tf, usted puede grabar. La cámara ip también admiten la detección de movimiento y alarma de presión. Cuando se alarma de movimiento detectado, la cámara ip y señal de alarma se enviará a su dirección de correo electrónico.

Vista móvil soporte (1), captura de imagen de alarma, charla bidireccional de la voz, control remoto y audio monitor
(2) control PTZ de apoyo: 355℃ horizontal, vertical 90℃
Multi-idioma de apoyo (3), identificación automática de idioma según el sistema operativo móvil
Protocolo ONVIF apoyo (4)
(5) de visión nocturna IR soporte: baja iluminación 0 LUX, 11pcs luces de LED, IR distancia: 25meters
(6) detección de movimiento de apoyo: subiendo información de eventos y alarma por correo electrónico o FTP
(7) soporte de codificación con sensores de alarma sin hilos, tales como detectores PIR, contactos magnéticos de puertas y ventanas, detectores de humo etc.
(8) soporte de CMS, máximo de 64ch
Protección de contraseña multi-nivel de apoyo (9), alta seguridad
Tarjeta del TF (10) max soporta 64 G
(11) forma de instalación: pared de montaje, montaje de elevación
Pan Tilt Especificaciones de cámara IP inalámbrica RJ45
System

CPU

Industrial-grade embedded microcontroller Hi3518E/GM3518S

Operating system

Embedded LINUX OS

Soft system

Android IPhone Windows

Video

Image sensor

1.0MP CMOS

Video Compression Format

H.264

Video Signal System

PAL&NTFS for optional

Video Resolution

720P:1280*720 960P:1280*960

Playback Image Quality

720P/960: 25fps or 30fps

Motion Detection

Support

Minimum illumination

OLUS/F1.2

IR

Support 5th generation high light IR

Video call

Support high-fidelity speakers

Screenshots function

Support

Audio

Compression

AMR

Audio Output

Built-in microphone

Audio Input

Built-in speakers

Alarm

Alarm triggered

Email Speakers alarm,Alarm recording,Capture&Email

External Alarm

Support all kind external wireless alarm linkage 433MHZ 315MHZ

Alarm Hint

Speakers alarm,Alarm recording,Capture&Email, mobile phone ringtone

Network Conection

RJ45

1 RJ45 Interface, 10/100 Self-adaption

WIFI

Support, 802.11 b/g/n

P2P

Support, unique P2P number, can work in LAN

Safety

Password Protection

Multilevel encryption, seniority password protection

Others

Power Supply

DC 5V 2A

PTZ Control

Built-in horizontal and vertical control motor

Power Consumption

3W

Working Temps

0℃- + 55℃

Working Humidity

10%-90%

Size

130*100*123 mm with WIFI antenna

weight

800g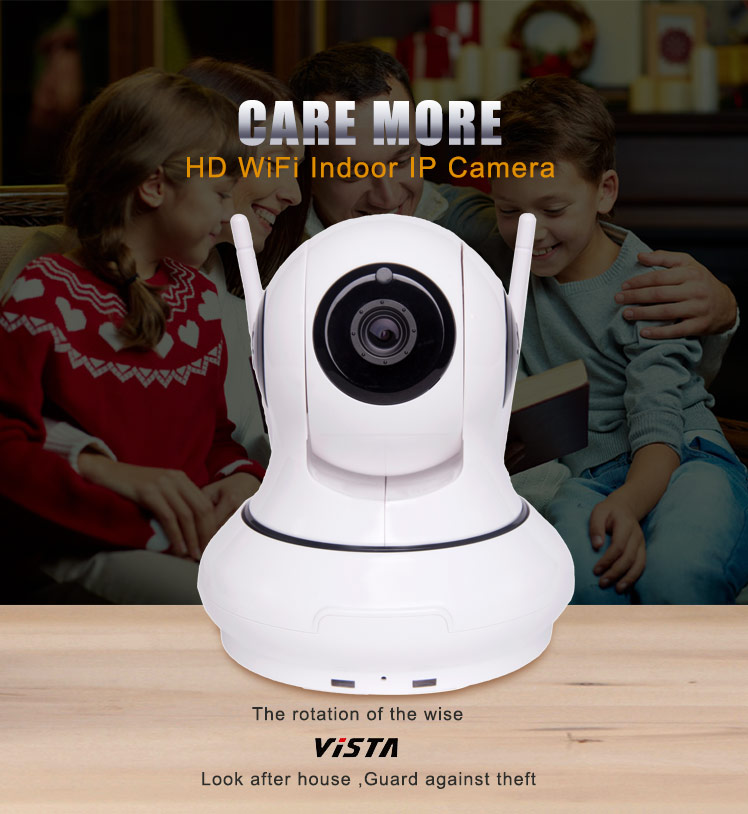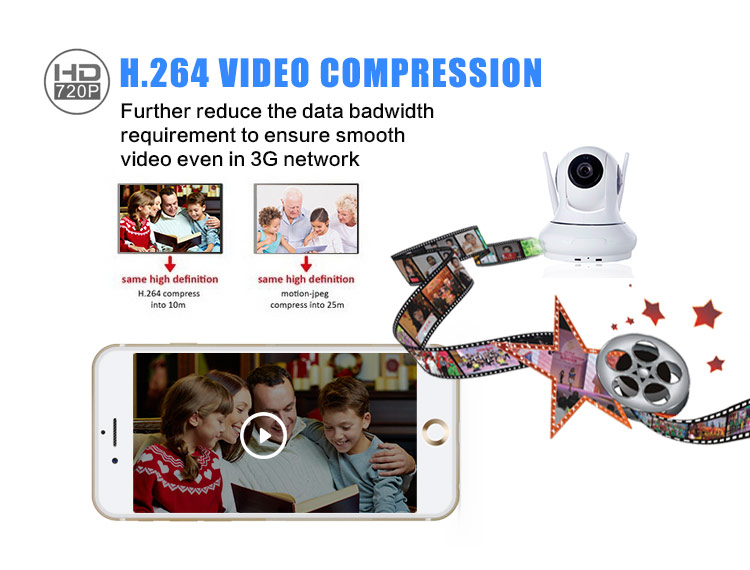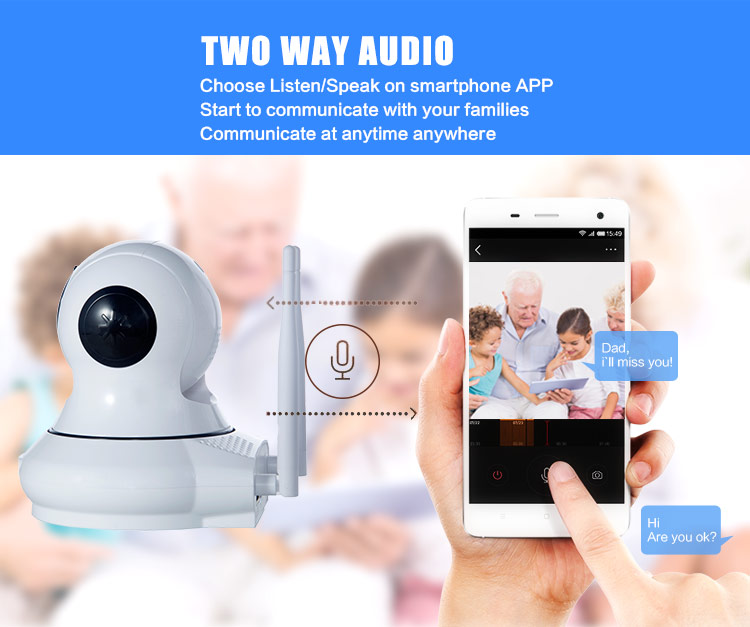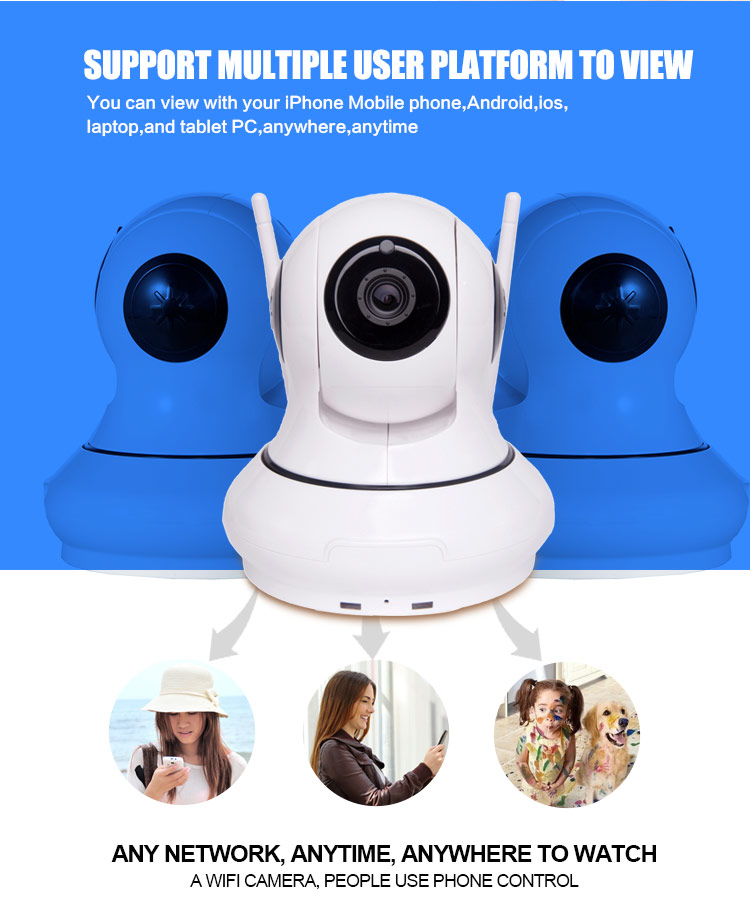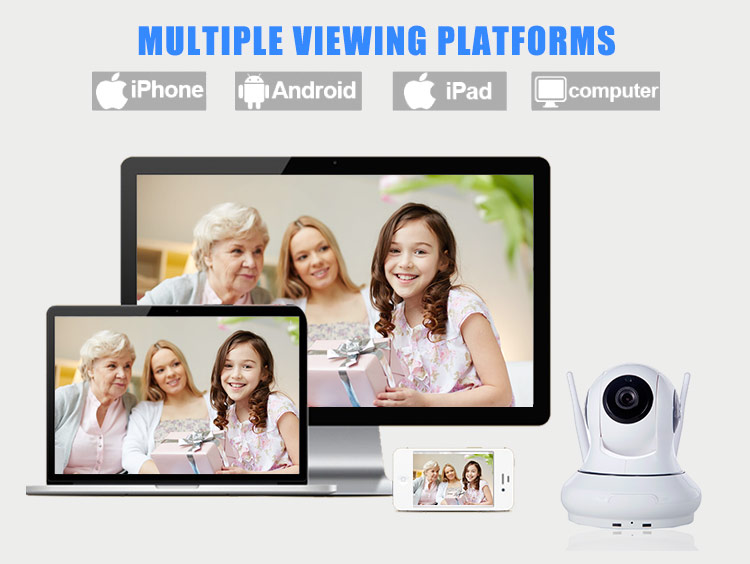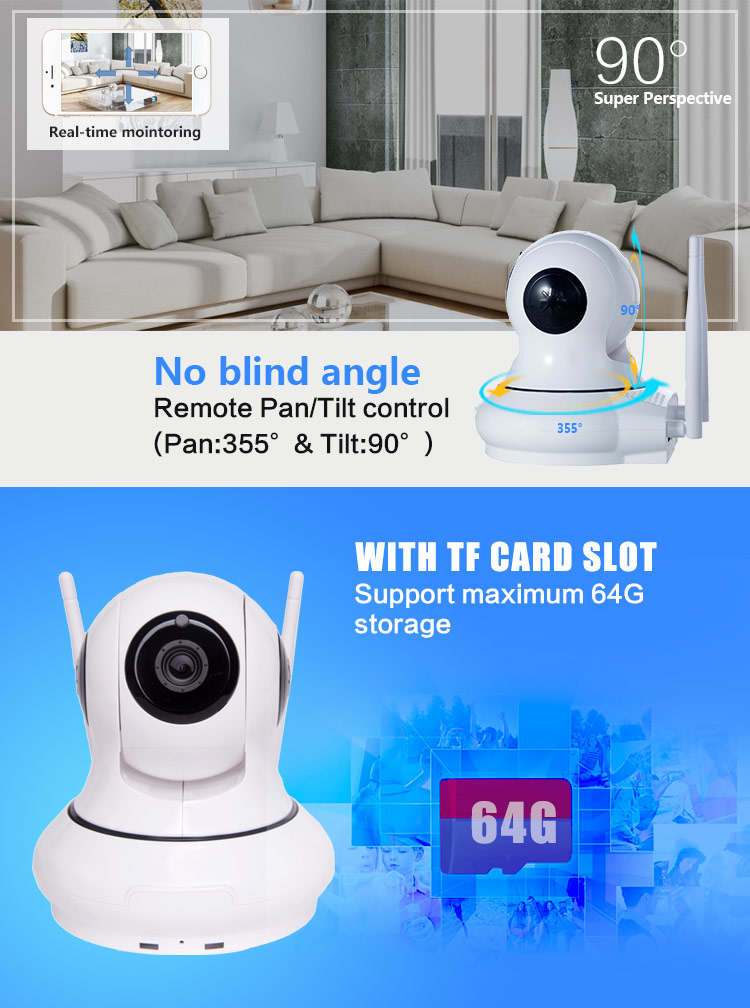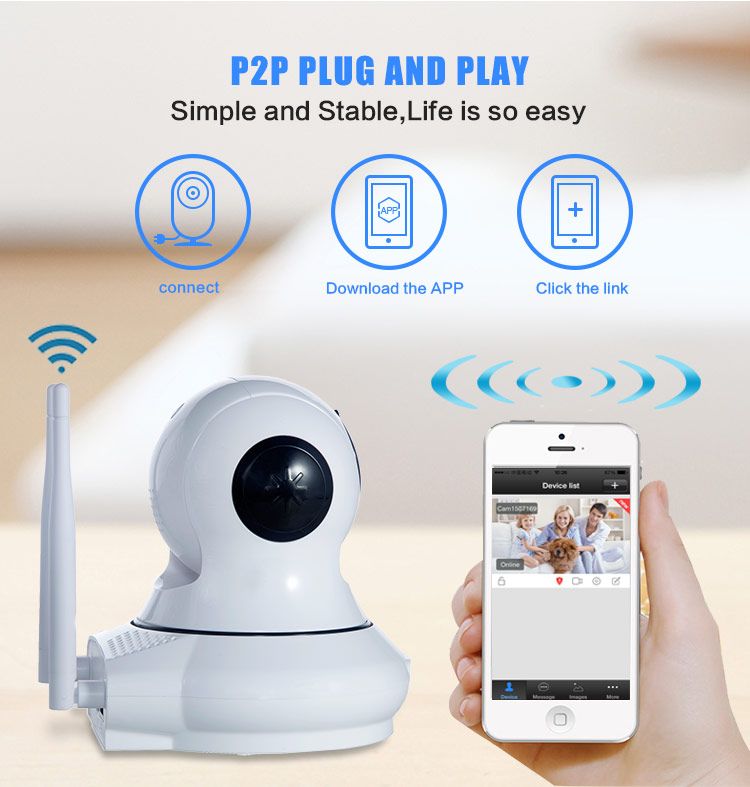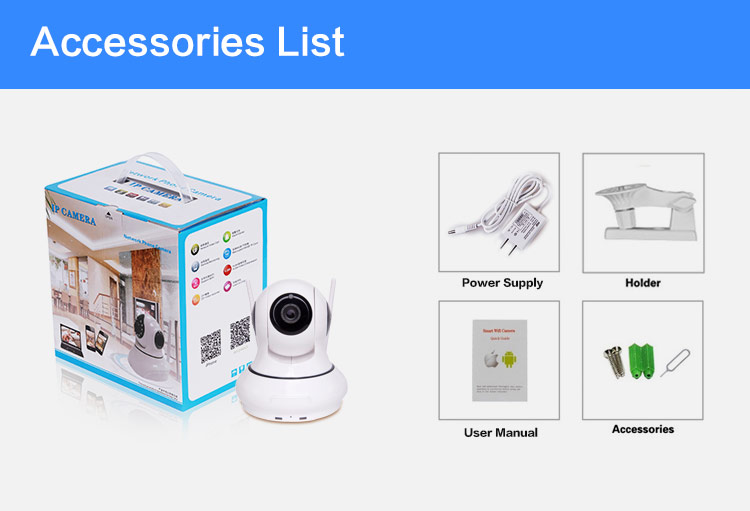 Información de la empresa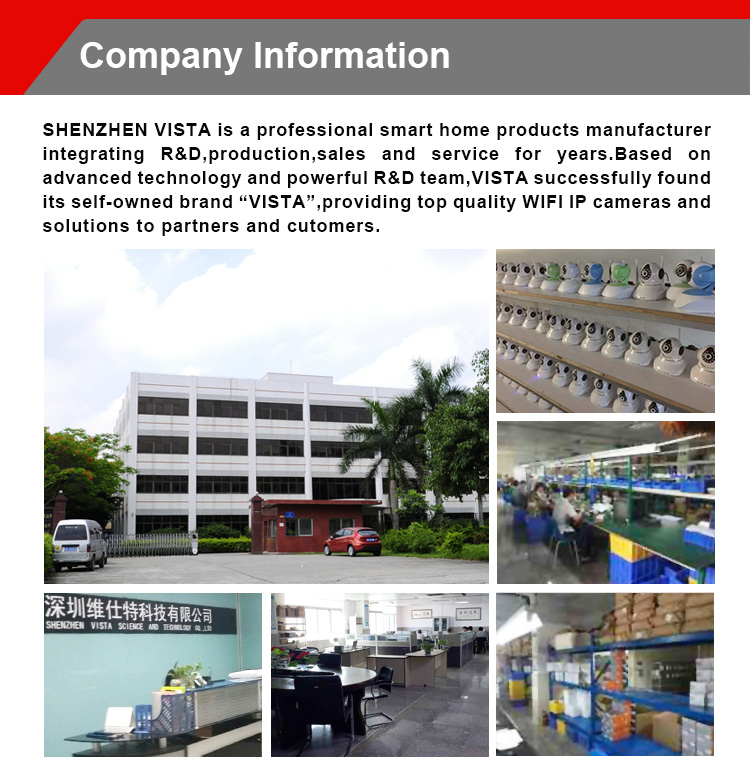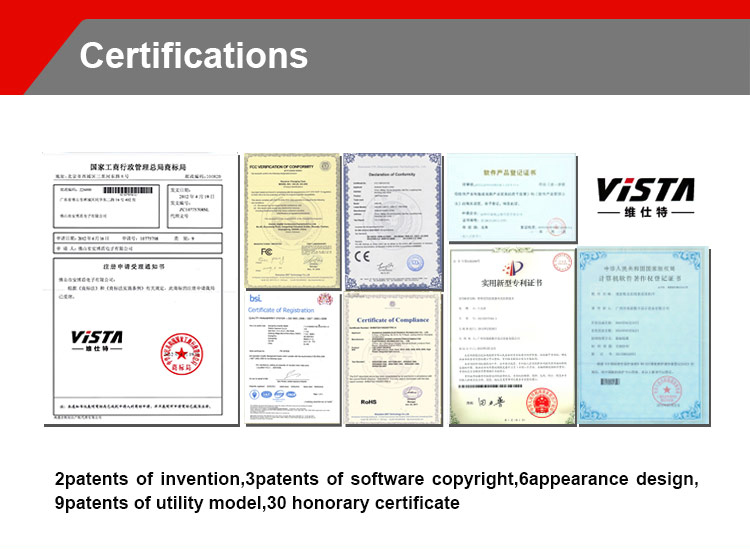 P: ¿Cómo podemos hacer un pedido?
R: puede enviarnos consulta en línea o por correo electrónico, te enviaremos cita y confirma la orden, una vez reciba su pago según nuestro PI, vamos a entregar mercancías pronto y decirle el número de seguimiento.
Q: ¿Qué es el método de pago?
A: Aceptamos condiciones de pago de T/T, L/C, unión occidental, VISA, Mastercard, fideicomiso, paypal y así sucesivamente. Opcional por el cliente.
¿ Q.May el paquete de personalizar e imprimir nuestro logo en el paquete y productos?
R: sí, nosotros ofrecemos personalizar paquete e insignia con diferentes materiales.
Q. ¿Qué es la garantía para sus productos?
A: nos comprometemos a dos años de garantía para todos nuestros productos.
Q. ¿Cuál es el MOQ?
A: nuestro MOQ es 5 unidades, pero el orden de la muestra es bienvenida.
P: tengo muestras para probar la calidad?
A: sí, usted puede comprar la muestra para probar la calidad antes de cantidad de la orden.